Welcome
The Mangalakara Education Trust was established in 2003 to be responsible for and manage Mangalakara Children's Home and Education Centre ("Mangalakara").
The Trust provides orphaned children, or those children whose families cannot afford to feed or educate them, with a peaceful, secure and stimulating environment in which to live and learn. It is run with complete integrity by a team of three Trustees who share responsibility for the needs of all the children, many of whom arrive at Mangalakara completely undernourished and traumatised. The loving and healthy environment that embraces them from day one ensures they quickly settle into their new lives and grow in confidence and ability.
We hope you will enjoy browsing through our website and that you will feel able to help the Trust continue to rescue children from lives of poverty - and often abuse - and give them an opportunity to make dreams a reality.
Every rupee received by the Trust is accounted for and nothing is wasted. The Trustees work full time in an unpaid capacity receiving no salary or honorariums. The Trust receives no financial support for the Mangalakara Children's Home & Education Centre, which is therefore dependent on private donations.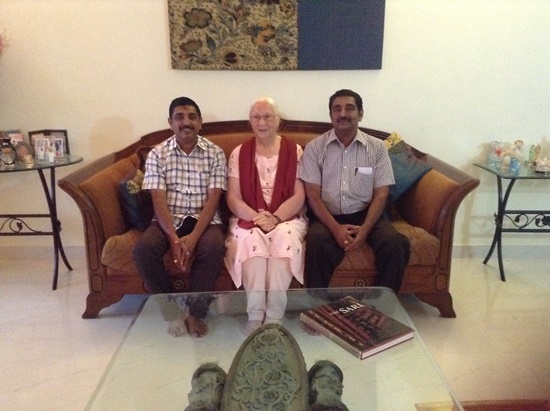 S. SATHYA PRAKASH RUTH MCALEESE S. SURESH KUMAR
The three Trustees of Mangalakara Education Trust